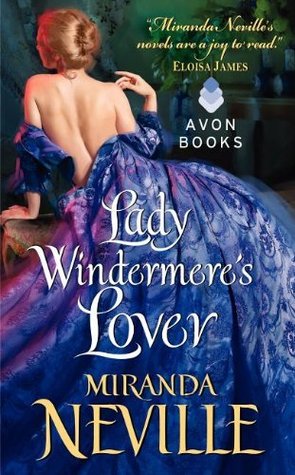 Publisher: Avon
ISBN:0062243322
Pages: 384 pages
Genre: Romance/Historical/Regency
Series:
The Wild Quartet
-
1
,
2
Challenges-TK
Buy this Book:
Amazon
,
Indiebound
,
Powell's
Summary:
Hell hath no fury . . .

Damian, Earl of Windermere, rues the day he drunkenly gambled away his family's estate and was forced into marriage to reclaim it. Now, after hiding out from his new bride for a year, Damian is finally called home, only to discover that his modest bride has become an alluring beauty—and rumor has it that she's taken a lover. Damian vows to keep his wife from straying again, but to do so he must seduce her—and protect his heart from falling for the wife he never knew he wanted.

Lady Cynthia never aspired to be the subject of scandal. But with her husband off gallivanting across Persia, what was a lady to do? Flirting shamelessly with his former best friend seemed like the perfect revenge . . . except no matter how little Damian deserves her loyalty, Cynthia can't bring herself to be unfaithful. But now that the scoundrel has returned home, Cynthia isn't about to forgive his absence so easily—even if his presence stirs something in her she'd long thought dead and buried. He might win her heart . . . if he can earn her forgiveness!
My Review:
Intro: I've been reading contemporaries (and Stephen King oddly enough) lately but I've really missed my angsty historicals. And I'm pretty lucky because this one is a reading highlight. I'm not even kidding. It's one of the reading highlights of my year.
Characters:
Heroine: Cynthia- Oh how I loved Cynthia. She is the type of heroine you look for and hope to find. She strong and smart. I identified with her and empathized with her. I wanted to kick Damian's ass on her behalf.
Hero: Damian-There are some heroes that you love in spite of their incredible stupidity. Damian is one of them. I didn't like the way he treated Cynthia at times and wanted to throttle him on her behalf. But he did redeem himself. I grew to love him.
Chemistry: I loved them. Not because they were all smooshy and romantic but because they were angsty and awesome. I spent a good deal of the book wanting Cynthia to run as far away as she could from Damian but Neville redeemed him deftly and convincingly.
Chemistry Rating:
Conclusion: I loved this book. It was angsty but in a not overbearing way. I love angst in my romance but often I find that it is done for shock value but in this one it only adds to the story of Cynthia and Damian. They wouldn't be nearly as compelling if they were all fluffy. I need to read more of Miranda Neville's books. I really do.
Overall Rating
Author Info
Miranda Neville grew up in England. During her misspent youth she devoured the works of Georgette Heyer, Jean Plaidy, and any other historical novels she could lay hands on. As a result she attended the University of Oxford to study history, ignoring all hints that economics might be a more practical subject. She spent several years writing catalogs of rare books and original letters and manuscripts for Sotheby's auction house in London and New York. Much of her time in this job was spent reading the personal correspondence of the famous. This confirmed her suspicion that the most interesting thing about history is people.
Since moving to Vermont, she has worked in Special Collections at Dartmouth College and as an editor and journalist on Behind the Times, a small, idiosyncratic (and now defunct) monthly newspaper. She is the owner and editor of a weekly advertiser in the Upper Valley, a job that leaves her enough time to write fiction.
Her first book, Never Resist Temptation. was published by Avon in 2009. The first two books in the Burgundy Club series will be published in 2010.
She lives with her daughter, Becca, a college student and confirmed drama queen, and two cats who are never on the right side of any door.
a Rafflecopter giveaway