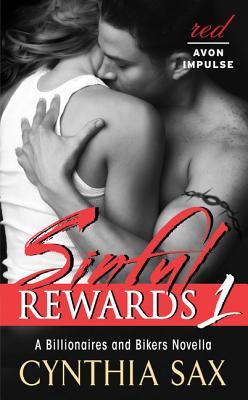 Publisher: Avon Red Impulse
ISBN:
0062354108
Pages: 100 pages
Genre: Romance/Contemporary
Buy this Book:
Amazon
,
Nook
,
Google
,
iTunes
Summary:
Belinda "Bee" Carter is a good girl; at least, that's what she tells herself. And a good girl deserves a nice guy—just like the gorgeous and moody billionaire Nicolas Rainer. He is everything she wants in a man.

Or so she thinks, until she takes a look through her telescope and sees a naked, tattooed man on the balcony across the courtyard. Hawke is mysterious, the bad boy she knows will bring only heartbreak. He has been watching her, and that makes him all the more enticing.

But when a mysterious and anonymous text message dares her to do something bad, she must decide if she is really the good girl she has always claimed to be, or if she's willing to risk everything for her secret fantasy of being watched.

Is her mystery man the reclusive billionaire with a wild side or the darkly dangerous bad boy?
My Review:
Intro: This is a biker series. I greatly enjoy biker series. It's a definite quirk but I love them. This one was not an exception. I loved it and can't wait for the next installment.
Heroine: Bee-I liked her. I always have trouble making connections with heroines in novellas because we don't get to spend as much time with them. She had a nice strength of character to her but she had her vulnerabilities.
Hero(es)-
Option 1-Nicholas-He was the Darcy complex hero. Straight-laced and a bit aloof. Nice guy with a bit of an edge to him. He has to be one of my favorite rich boy characters out there.
Option 2-Hawke- I have to admit that he is my favorite. I have a weakness for a man on a motorcycle. I really do. It's one of those weaknesses that I am completely okay with. He was a bit naughtier than Nicholas.
Chemistry- I am going to make no secret that I prefer Bee with Hawke but I thought she had great chemistry with both men. In different ways. Which made it really interesting. It is almost like reading two completely different romances in one.
Chemistry Rating-
Conclusion-I am salivating for the next part of this series. I need to know what happens. I very rarely have this happen to me. I am usually not one to get excited about a series. I can forget about it until the next book comes out. But not this one. I have a definite preference for endgame and I can't wait to see if I'm right.
Overall Rating
Author Info
Cynthia Sax lives in a world filled with magic and romance. Although her heroes may not always say, "I love you", they will do anything for the women they adore. They live passionately. They play hard. They love the same women forever.

Cynthia has loved the same wonderful man forever. Her supportive hubby offers himself up to the joys and pains of research, while they travel the world together, meeting fascinating people and finding inspiration in exotic places such as Istanbul, Bali, and Chicago.Please visit her on the web at www.CynthiaSax.com
Author Links
a Rafflecopter giveaway