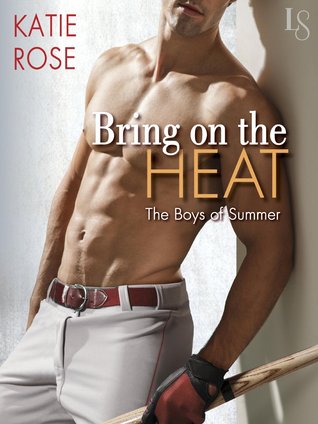 Publisher: Loveswept
ISBN:0553390473
Pages: 236 pages
Genre: Romance/Contemporary/Sports
Series:
The Boys of Summer
Buy this Book:
Amazon
,
Nook
,
iTunes
Summary:
In Katie Rose's irresistible battle of wits, a case of mistaken identity lands a female fan in bed with a sexy superstar—and in major-league trouble.

House-sitting for a rich and famous friend has its perks, and Darcy Hamel isn't shy about enjoying them. Especially when it means scoring a ticket to an exclusive fashion show hosted by the New Jersey Sonics. An avid baseball fan, Darcy has always dreamed of meeting the team—especially the starting pitcher whose body is as hot as his fastball. But there's a catch. The gala is by invitation only. To get behind the velvet rope, mild-mannered Darcy will have to pose as party girl Lydia Logan.

Schmoozing is one of the downsides of fame, but Chase Westbrook knows how to liven up even the dullest event. And nothing spices a night up more than a beautiful socialite with a naughty reputation. What Chase doesn't expect is a hint of sweetness beneath her sultry façade. Flirtation turns to seduction and leaves him aching for more. Chase just doesn't know who the real Lydia is: the spoiled tease crying foul over some missing diamonds or the alluring woman making a play for his heart.


My Review:
Intro: I really was excited about this one. Baseball is one of my things. I don't love it as much as hockey or auto racing but it's a great past time when hockey's over and racing is just starting. And I did like this one but there were some things about it that just…confused me. Also, the cover was mighty pretty.
Characters:
Heroine: Darcy-Mistaken identity plotlines very rarely work for me. They just come across as too unbelievable. But with Darcy it wasn't quite as unbelievable as usual because she kind of tripped and fell into it. I really did end up liking her as well. She was a lively heroine and I could completely identify with her.
Hero: Chase-It was one of those situations where I liked him but I had some serious issues with him and I ended up wanting to strangle him with a shoelace. He was the typical playboy athlete hero. He was sometimes way too far up his own butt and he did some things that even this girl --who likes heroes who do bad things—found unforgivable.
Chemistry-I really liked Chase and Darcy together even through the whole Darcy is Lydia thing. But what Chase did when he found out about the whole Darcy/Lydia thing was just wrong and I couldn't believe Darcy forgave him just like that. I would have made him grovel. For a good long time.
Chemistry Rating:
Ending Babble: Sports series are rare reads for me. Odd considering how much I love them. But this one will be added to my list because I loved this one. I got so emotionally invested and I love the angst.
Overall Rating
Award-winning historical author Katie Rose makes her contemporary debut with the Boys of Summer novels, Bring on the Heat and Too Hot to Handle, which combine Katie's true loves: baseball and romance! When not watching baseball, Katie is at her lake house in New Jersey, hard at work on her next book.
a Rafflecopter giveaway