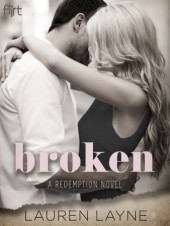 Publisher: Flirt
ISBN:055339035X
Pages: 262 pages
Genre: Romance/Contemporary
Buy this Book:
Amazon
,
Kobo
,
Nook
,
iTunes
Summary:
Lauren Layne's New Adult novel tells the story of a girl with secrets, a guy with scars, and a love that could save them both... or destroy them.

When Olivia Middleton abandons the glamour of Park Avenue for a remote, coastal town in Maine, everyone assumes she's being the kind do-gooder she's always been. But Olivia has a secret: helping an injured war veteran reenter society isn't about charity—it's about penance. Only, Olivia's client isn't the grateful elderly man she's expecting. Instead, he's a brooding twenty-four-year-old who has no intention of being Olivia's path to redemption . . . and whose smoldering gaze and forbidden touch might be her undoing.

Paul Langdon doesn't need a mirror to show him he's no longer the hotshot quarterback he was before the war. He knows he's ugly—inside and out. He'll do anything to stay in self-imposed exile, even accept his father's ultimatum that Paul tolerate the newest caretaker for three months or lose his inheritance. But Paul doesn't count on the beautiful twenty-two-year-old who makes him long for things that he can never have. And the more she slips past his defenses, the more keeping his distance is impossible.

Now Paul and Olivia have to decide: Will they help each other heal? Or are they forever broken?


My Review:
Intro: I read this one during a long stay in a doctor's waiting room. I mean long. Like three hours long. That wait could have been pretty painful but this book made it go by so very quick.
Characters:
Heroine: Olivia-I had prepared myself to dislike her. I did and perhaps that it bad of me but I was preparing myself for a spoiled princess of a heroine. But I got a strong and likable heroine that I had no trouble at all making a connection to.
Hero: Paul-I loved Paul. He came off as quite surly but there was an underlying tenderness about him. I definitely felt for him throughout the book. His story was heartbreaking.
Chemistry: I just loved these two together. They were angsty and slightly contentious yet sweet and I loved how both characters developed as the book went on. They had such magnetic chemistry.
Chemistry Rating:
Conclusion: I just loved this book and it wasn't because it was my only respite during a long afternoon spent in a waiting room. It was an excellent story with perfect pacing and amazing characters. I need to read more of this series.
Overall Rating
Lauren Layne graduated from Santa Clara University with a B.S. in political science that she has yet to put to good use. After dabbling in an e-commerce career in Seattle and Southern California, Layne moved to New York City, where she now writes full-time. She lives with her husband and their plus-size pomeranian in a tiny Manhattan studio.
a Rafflecopter giveaway