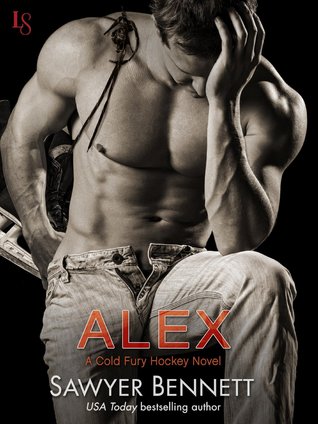 Publisher: Loveswept
ISBN: 0553393006
Pages: 224 pages
Genre: Romance/Contemporary/Sports
Buy this Book:
Amazon
,
Kobo
,
iTunes
,
Nook
Summary:
USA Today bestselling author Sawyer Bennett scores big-time with the first novel in a sexy new series hot enough to melt the ice.

Hockey star Alexander Crossman has a reputation as a cold-hearted player on and off the rink. Pushed into the sport by an alcoholic father, Alex isn't afraid to give fans the proverbial middle finger, relishing his role as the MVP they love to hate. Management, however, isn't so amused. Now Alex has a choice: fix his public image through community service or ride the bench. But Alex refuses to be molded into the Carolina Cold Fury poster boy . . . not even by a tempting redhead with killer curves.

As a social worker, Sutton Price is accustomed to difficult people—like Alex, who's been assigned to help her create a drug-abuse awareness program for at-risk youth as part of the team's effort to clean up his image. What she doesn't expect is the arrogant smirk from his perfect lips to stir her most heated fantasies. But Sutton isn't one to cross professional boundaries—and besides, Alex doesn't do relationships . . . or does he? The more she sees behind Alex's bad-boy façade, the more Sutton craves the man she uncovers.




My Review:
Intro: I think I have said it before, I love hockey…even though my team is currently tanking quite horrifically. I love the sport and I also love hockey romances. Especially when the hero is high on the bad boy spectrum. And this one fit that bill so much.
Characters:
Heroine: Sutton-I liked Sutton. She was a compelling heroine. Nice with an interesting backstory. I did, however, want to see her get angry and just let 'em have it just once. She just brushes off so many things that she should not brush off.
Hero: Alex-He is a bit of a putz. A big one. He's surly and gruff with a large chip on his shoulder. I did have some trouble with how he treated Sutton at times and he was one of the people that I wanted Sutton to let have it.
Chemistry: I loved them together. Mainly because I am a big fan of angst and Sutton and Alex definitely provided that. They weren't a perfect match by any means but their journey together was definitely interesting.
Chemistry Rating:
Conclusion: I really did like this book quite a bit. I loved the angst and the drama. I spent most of the book loving Alex yet wanting to smack him and I really liked Sutton. The hockey aspect was also right on point—and I am usually very picky about that. I will definitely be keeping up with this series.

P.S. That cover!!!!!!
Overall Rating
USA Today bestselling author Sawyer Bennett is a snarky Southern woman and reformed trial lawyer who decided to finally start putting on paper all of the stories that were floating in her head. Her husband works for a Fortune 100 company which lets him fly all over the world while she stays at home with their daughter and three big, furry dogs who hog the bed. Sawyer would like to report she doesn't have many weaknesses but can be bribed with a nominal amount of milk chocolate.
a Rafflecopter giveaway