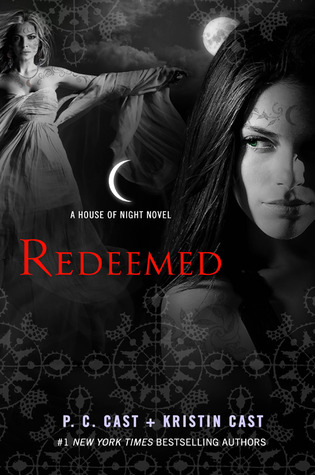 Publisher: St. Martin's Griffin
ISBN: 0312594445
Pages: 320 pages
Genre: Young Adult
Buy this Book:
Amazon
,
Indiebound
,
Powell's
,
Barnes and Noble
,
Kobo
Summary:
The final electrifying installment in the #1 New York Times bestselling vampyre series

Zoey Redbird is in trouble. Having released the Seer Stone to Aphrodite, and surrendered herself to the Tulsa Police, she has isolated herself from her friends and mentors, determined to face the punishment she deserves—even if that means her body will reject the change, and begin to die. Only the love of those closest to her can save her from the Darkness in her spirit; but a terrible evil has emerged from the shadows, more powerful than ever…

Neferet has finally made herself known to mortals. Crowning herself a Dark Goddess, she is evil unleashed and is enslaving the citizens of Tulsa. The vampyres of the House of Night have banded with the police, and are gathering every last resource they have, but they know that no single vampyre is strong enough to vanquish her—unless that vampyre has the power to summon the elements as well as the ability to wield Old Magick. Only Zoey is heir to such power…but because of the consequences of using Old Magick, she is unable to help.
In the final novel in the House of Night series, an epic battle of Light versus Darkness will decide who is redeemed…and who is forever lost.

The House of Night series by P.C. Cast and Kristin Cast is an international phenomenon, reaching #1 on U.S., German, and UK bestseller lists, and remaining a fixture on The New York Times Children's Series bestseller list for nearly 160 weeks and counting, with more than 12 million copies in print and rights sold in thirty–eight countries to date.
My Review:
I started reading the House of Night series a while back only to get distracted and stop reading towards the middle. Yes, I know. Bad. I tend to do that with long series. Hence, I was a bit worried that I would have to muddle through this one. It is the end of a series that I have missed the whole middle of but I find that I really did enjoy it.
I did love Zoey. It took me a while to make a connection to her but I ended up really liking her. She progresses and matures really nicely throughout the book. I also didn't quite know who I shipped Zoey with for the most part. I kept wavering throughout. Both Stark and Heath were awesome characters so it was difficult to choose.
I really enjoyed the pace and complexity of Redeemed. There were so many storylines weaving their way through the book that I would have felt a bit overwhelmed if they had not been handled properly. I never felt lost or confused even though I am at a bit of a disadvantage because I've missed a great portion of the series.
I will definitely be going back and reading the rest of the series because I really did like this one quite a lot.
Overall Rating
Goddess Gift Giveaway (U.S. Only)
Think you have what it takes fight the darkness with Zoey? Can you wield Old Magick effortlessly like Neferet?
Celebrate the goddess within. Enter to win a Goddess Gift. #HONRedeemed
And be sure to check out the epic finale to P.C. Cast & Kristin Cast's House of Night series, REDEEMED
Thanks to all of the sponsors of this lovely giveaway.
Giveaway-
you have two days from end of giveaway to respond with your address.
a Rafflecopter giveaway