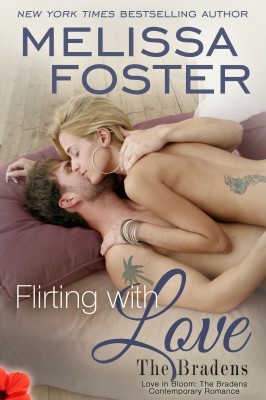 Publisher: World Literary Press
ISBN: 1941480055
Pages: 300 pages
Genre: Romance/Contemporary
Buy this Book:
Amazon
|
B&N
|
Kobo
|
iTunes
Summary:
FLIRTING WITH LOVE is the newest addition to the BRADEN series by New York Times & USA Today bestselling and award-winning author Melissa Foster. This contemporary romance series features alpha male heroes and sexy, empowered women. They're flawed, funny, passionate, and very relatable to readers who enjoy new adult romance, contemporary romance, and women's fiction.

IN FLIRTING WITH LOVE…

Elisabeth Nash has spent years dreaming of returning to the small town of Trusty, Colorado, where she spent summers with her favorite aunt. When she inherits her aunt's farmette, she closes her Los Angeles pet bakery and pampering business, sure that life in Trusty will be as peaceful and as welcoming as she remembers. But being an outsider in the close-knit town proves to be very different from the happy summers she remembers from her childhood—and falling for Trusty's hot, wealthy, and sinfully irresistible veterinarian, Ross Braden, sends the rumor mill into a frenzy.

Ross Braden learned long ago that gossip spreads faster than weeds in his small hometown, and Ross loves nothing more than his privacy. For that reason, he doesn't date women who live in Trusty. But that was before blond, beautiful, and refreshingly honest Elisabeth Nash flew into his vet clinic seeking help for her panicked piglet and turned his comfortable life—and his heart—inside out.

Despite rumors about Elisabeth's motives toward her aunt's property, passion brews between Elisabeth and Ross. Every steamy kiss and every sensual touch brings the pair closer together, and when Ross helps Elisabeth try to fit into the town he adores, it makes their bond even stronger. But even Elisabeth's efforts toward reaching the community, and the love she and Ross so desperately believe in, might not be enough for the protective small town to offer them a future.


My Review:
Intro: Happy Thanksgiving! I am getting this posted before going off to Thanksgiving breakfast, lunch and dinner.
Melissa Foster is officially one of my favorites. I still have to play catch-up with the rest of this series but the books I have read have been excellent. And this one is no exception.
Characters:
Heroine: Elisabeth-I loved Elisabeth. She was such a sweet heroine. She's the kind of heroine I could see myself being friends with in real life. I also want to steal some of her pie recipes. It's the one pastry I fail pretty hard at.
Hero: Ross-I loved him. It was pretty difficult for me not to like him. I find it very hard to dislike people who are kind and loving to animals. And he was such a kind and gentle hero. It's very rare that I find the "nice guy" hero to be very compelling but I loved Ross.
Chemistry: With these two, I could have very easily found them boring. But I didn't. Not at all. They were sweet together. Compelling but not at all dramatic or angsty. I love the angst but I didn't find myself missing it at all.
Chemistry Rating:
Conclusion: Melissa Foster is amazing. I loved this book. It was light-hearted and fun. Something I don't get very much of in my reading. I will definitely be following the rest of this series.
Overall Rating
"Melissa Foster is a wonderful connector of readers and books, a friend of authors, and a tireless advocate for women. She is the real deal"-- Bestselling Author
Jennie Shortridge
"What sets Melissa Foster apart are her compelling characters who you care about... desperately. This is psychological suspense at its most chilling. I dare you to read the first chapter and not be hooked." International bestseller, M.J. Rose
Melissa Foster is an award-winning, International bestselling author. Her books have been recommended by USA Today's book blog, Hagerstown Magazine, The Patriot, and several other print venues. She is the founder of the
Women's Nest
, a social and support community for women, the
World Literary Café
. When she's not writing, Melissa helps authors navigate the publishing industry through her author training programs on
Fostering Success
. Melissa is also a community builder for the Alliance for Independent Authors. She has been published in Calgary's Child Magazine, the Huffington Post, and Women Business Owners magazine.


a Rafflecopter giveaway