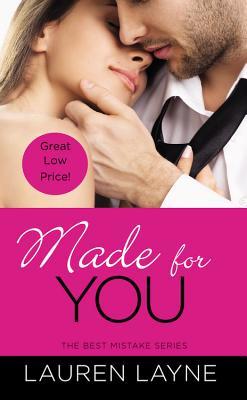 Publisher: Forever
ISBN: 1455546097
Pages: 320 pages
Genre: Romance/Contemporary
Buy this Book:
Amazon
,
Nook
,
iTunes
,
BAM
Summary:
When the Wrong Guy is Oh-So-Right

Will Thatcher is exactly the type of sexy playboy good girls like Brynn have always avoided. And yet there was still something about him she just couldn't resist. When Will moved across the country three years ago, Brynn vowed it was time to put him behind her. She never thought Will might have other plans . . .

Back in town, Will intends to get what he's always wanted-gorgeous, unforgettable Brynn. For years, he tormented the untouchable ice princess in a desperate bid for her attention. Now he has a new plan, and he'll do anything to rewrite their stormy past.
This time, he's out to show Brynn that the imperfect man might be the best mistake of her life . .




My Review:
Intro: I have been on a review writing spree for the past couple of days and oh boy does it feel nice. I have been a bit slow to get books reviewed lately but now I think I should be a bit ahead of my reading and reviewing. So expect a bunch of reviews this week and in the coming weeks. Made For You isn't one of the reviews I wrote during the spree but I did love this book. So much.
Characters:
Heroine: Brynn-I loved that she was a bit of a pill. That sounds bad but she had an edge to her. She wasn't always sweetness and pie and I liked that about her. Although she did have her vulnerable side.
Hero: Will-I loved him as well. He came across as a bit of a modern day rake. Which is something I love. I like that we get to know the real Will as Brynn gets to know the real Will.
Chemistry: They are Archie and Edith. They bicker and they fight and they are often not very nice to each other. But I think that was their charm. Their shared history wasn't the easiest and their journey was interesting to say the least.
Chemistry Rating:
Conclusion: I really loved this book. It was angsty without being overbearing or melodramatic. It also had a nice humor about it. I will definitely be going back and reading the first book in the series because I really loved this one.
Overall Rating
Lauren Layne used to work in e-commerce. She wore cute shoes and big-girl clothes like an adult.
Then she was like, nope, changed into her pajamas and started writing romance novels.
She believes in sarcasm, weekday happy hours, and happily ever after.
a Rafflecopter giveaway