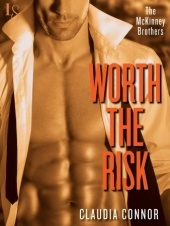 Publisher: Loveswept
ISBN: 0553390929
Pages: 272 pages
Genre: Romance/Contemporary
Buy this Book:
Amazon
|
B&N
|
iTunes
|
Kobo
Summary:
When a McKinney brother falls in love, powerful emotion and overwhelming desire are never far behind.

Two hearts locked away . . . Hannah Walker spends her days coaching children through injury and trauma, one therapeutic horseback ride at a time. She knows all too well how violence can change a child and leave scars that never heal. It's easy for her to relate to the kids; what isn't easy is the thought of facing her own harrowing past.

Millionaire playboy Stephen McKinney could use a little coaching himself. Five years ago he encountered his most horrible nightmare—and the nightmare won. No matter what he achieves, nothing can make up for that awful night . . . or so he believes.

Both desperate for a second chance . . . Stephen is used to getting what he wants. And he wants Hannah. So when she turns him down, he's intrigued. What he doesn't know is that her secrets will lead him to a place he never wanted to go again . . . to a side of himself he's tried to forget . . . a side that would scare Hannah away from ever loving him. Now his only chance to win her trust is to bare his soul, risking everything he tried so hard to protect.



My Review:
Intro: I read Worth the Fight in about an hour. That should say something about how I felt about this book. I breezed through it. And I just bought new video games so I shouldn't have but I did.
Characters:
Heroine: Hannah-I loved Hannah. She was such a compassionate and kind person. I find that so refreshing to see. She also had a innate strength to her character that I really loved. It was so easy to make a connection to her and I usually have trouble with that.
Hero: Stephen-I loved Stephen too. He was such an awesome hero. He had some depth to him. He initially came off as very arrogant and playboy but there were so many different layers to him. I loved how gentle and considerate Stephen was towards Hannah.
Chemistry: I absolutely loved these two together. They were two very broken people and watching their journey together was really interesting. There were some very angsty and heart-wrenching moments—and we all know how much I love that. I shipped them, I have to admit, and I shipped them hard.
Chemistry Rating:
Conclusion: I really did like this book quite a bit. I'm pretty sure this is a series that I will be following. I loved both Hannah and Stephen. They had the most amazing chemistry and I loved the angsty bits. I have to admit that I am waiting for the first big book fail of the year. It hasn't happened yet and I am terrified.
Overall Rating
Claudia Connor attended Auburn University, where she received her undergraduate and masters degrees in early childhood education, and completed her studies in Sawbridgeworth, England. Always a lover of happy endings, she enjoys movies, reading, and spending her days putting on paper the stories in her head. She lives near Memphis, Tennessee, with her husband and three daughters.
a Rafflecopter giveaway