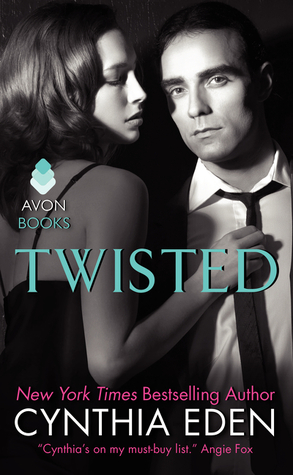 Publisher: Avon
ISBN:0062349651
Pages: 384 pages
Genre: Romance/Thriller
Buy this Book:
Amazon
|
B & N
|
iTunes
|
Kobo
Summary:
In the second seductive Lost novel from New York Times bestselling author Cynthia Eden, an obsessed Last Option Search Team agent goes looking for trouble—and finds her in the Big Easy.

Dean Bannon comes to New Orleans for one reason only: to track down a missing sixteen-year-old girl. That's before he meets the drop-dead gorgeous con artist who makes him want to lose his legendary control.

With her past, Emma Castille doesn't claim to be psychic. She just notices things other people don't. Like the fear in a runaway's eyes-or the pain in an ex-FBI agent's heart. Her chemistry with Dean is blistering, but Emma follows her passion . . . not someone else's orders.

Then a madman breaks into Emma's home and leaves a twisted message: "You're next." Now Dean refuses to let her out of his sight until he pries every last secret from her full, sexy lips. And suddenly Emma's aching to give him everything he wants.


My Review:
Intro: Guess what happened today? I finished a book (Only Enchanting by Mary Balogh) and loved it!! That may seem like something not so monumental but it's been a long long time for me. I did like this one but it fell into the part of the reading slump were everything was a bit "meh" for me.
Characters:
Heroine: Emma-I liked her. She was smart and brave and very loyal. But she was one of those heroines that kind of fell a bit flat for me. Not in a huge way but it took me a while to make a connection to her.
Hero: Dean-I really liked Dean as well. But again, he just fell a bit flat for me. He was a strong, protective and kind hero. I have no idea why I had trouble making a connection to him but I did.
Chemistry: This is where the book came to life for me a bit. Emma and Dean had great chemistry. You could feel their connection instantly. I am always happy when characters who don't necessarily work for me individually but work well as a couple. And they did.
Conclusion: I liked Twisted. I did. It's probably not going to go on my favorites list but I did like it. I have trouble getting into a book when I don't connect with the characters so it took me a bit longer to get into the story but I really enjoyed the mystery aspect and thought that Dean and Emma had great chemistry. I may come back to this one after my reading slumped is defeated so I can see if my opinion changes.


Overall Rating
Award-winning author CYNTHIA EDEN writes dark tales of paranormal romance and romantic suspense. She is a New York Times, USA Today, Digital Book World, and IndieReader best-seller. Cynthia is also a two-time finalist for the RITA® award (she was a finalist both in the romantic suspense category and in the paranormal romance category). Since she began writing full-time in 2005, Cynthia has written over thirty novels and novellas. Cynthia lives along the Alabama Gulf Coast. She loves romance novels, horror movies, and chocolate. Her favorite hobbies include hiking in the mountains (searching for waterfalls) and spelunking.


a Rafflecopter giveaway