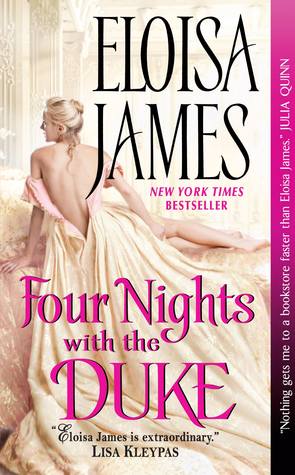 Publisher: Avon
ISBN: 0062223917
Pages: 384 pages
Genre:Romance/Historical
Buy this Book:
Amazon
|
Barnes
|
iTunes
|
Kobo
Summary:
As a young girl, Emilia Gwendolyn Carrington told the annoying future Duke of Pindar that she would marry any man in the world before him-so years later she is horrified to realize that she has nowhere else to turn.

Evander Septimus Brody has his own reasons for agreeing to Mia's audacious proposal, but there's one thing he won't give his inconvenient wife: himself.

Instead, he offers Mia a devil's bargain… he will spend four nights a year with her. Four nights, and nothing more. And those only when she begs for them.

Which Mia will never do.

Now Vander faces the most crucial challenge of his life: he must seduce his own wife in order to win her heart-and no matter what it takes, this is the one battle he can't afford to lose.



My Review:
Intro: Eloisa James is one of my favorites. I have loved every single book I have read by her and Four Nights With a Duke is no different. I loved it. So much. I am still waiting for an Eloisa James book that I don't love.
Characters:
Heroine: Mia-I liked Mia. She was all the things that make some heroines very likable in my book—smart, strong and independent. But what I really loved about her---and this may sound strange---is how controlled emotionally she was. I identified with that in a big way.
Hero: Vander-I LOVED Vander. He has a personality that could seem abrasive at times. And I liked that. His acerbic personality did verge on cruel a couple of times but I found that I could not fault him. And he does end up being quite the hero. You just have to dig through the layers to get to it.
Chemistry-Between Mia's controlled emotions and Vander's abrasiveness, you never really know which way is up with these two. But I found that I liked it. Their relationship was complex and not something you read in every romance.
Chemistry Rating:
Conclusion: I love Eloisa James. This is one of my favorite reads of the year. It made me even more ready to rush through Mary Balogh's backlist to get to my Eloisa shelf. I loved everything about this book. Mia and Vander were complex and interesting characters and I love a good bit of angst and this book definitely provided it.
Overall Rating
A New York Times bestselling author, Eloisa James is a professor of English literature who lives with her family in New York, but who can sometimes be found in Paris or Italy. (Her husband is an honest to goodness Italian knight!) Eloisa's website offers short stories, extra chapters, and even a guide to shopping in Florence. Visit her at www.eloisajames.com.
a Rafflecopter giveaway