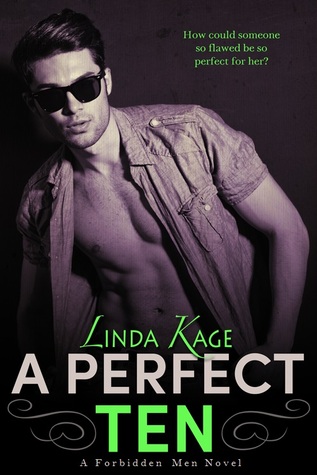 Publisher: CreateSpace
ISBN: 1508511934
Pages: 426 pages
Genre: Romance/Contemporary
Buy this Book:
Amazon

|

B&N

|

iTunes
|

Kobo
Summary:
Let your hair down, Caroline, they said. It'll be fun, they said.

I know I've closed myself off in a major way in the past year, ever since "the incident" where I messed up my life completely. It's past time I try to live again or just give up completely. But this is quite possibly the craziest thing I've ever done. In a last ditch effort to invigorate myself, I'm standing outside Oren Tenning's bedroom, I just peeled off the sexiest pair of underwear I own, and my hand is already raised to knock. My brother would disown me for doing anything with his best friend, and he'd probably kill Oren. But if I play my cards right, no one will ever know about this. Not even Ten.

Maybe after tonight, I'll finally get over this stupid, irrational crush I hate having on the biggest jerk I've ever met. Or maybe I'll just end up falling for him even harder. Maybe I'll discover there's so much more to my crude, carefree hunk than meets the eye.


My Review:
Intro: If anyone follows me on Twitter, you would know that I had a terrible night last night. There was an evil person with an evil car alarm in my neighborhood a couple nights ago. The alarm went off like clockwork every 5 minutes while I was trying to sleep. This resulted in me getting about an hour of sleep and a huge migraine all day yesterday and today. It was painful and not fun. I had intended to post this review yesterday morning but I didn't get a chance to edit it so it's up now albeit a day later.
I did fall in love with this series. I have no idea how I missed it before but I must read the previous four books. I must. It's a necessity.
Characters:
Heroine: Caroline-Caroline was awesome. She is perhaps one of the most likable characters I have come across in my recent reading—I've been in a bit of a slump but that's not to take away from the awesome that is Caroline. I love how she went after what (or who) she wanted without even a bit of fear.
Hero: Ten-Now this is how I know I absolutely must read the whole series. I loved Ten so much. He's a bit of a playboy. But he's just such a loveable guy that I couldn't help but like him. He has a great sense of humor and he's such a sweetie. He's definitely a hero crush.
Chemistry: I love the disapproving sibling storyline. Almost as much as the crush on the brother's best friend storyline. Both of which this story has. Caroline and Ten also had this chemistry that walked the line between completely comfortable and extremely intense. They also had moments of humor which I loved but also moments of angst which I loved even more.
Chemistry Rating:
Conclusion: I loved this book so much. Caroline and Ten were perfect. They had amazing chemistry and were so sweet together. I think I loved this book enough just based on how amazing the characters are but I was just unable to put this book down. I need to read the rest of this series ASAP.
Overall Rating
Linda grew up on a dairy farm in the Midwest as the youngest of eight children. Now she lives in Kansas with her husband, daughter, and nine cuckoo clocks. Her life's been blessed with lots of people to learn from and love. Writing's always been a major part of her world, and she is so happy to finally share some of her stories with other romance lovers.
a Rafflecopter giveaway