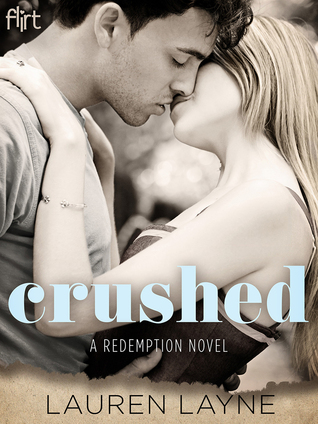 Publisher: Loveswept Flirt
Pages: 304 pages
Genre: Romance/New Adult
Buy this Book:
Amazon
|
B & N
|
iTune
s |
Kobo
Summary:
Lauren Layne's latest novel about the healing power of redemption tells the story of a crush gone wickedly wrong, proving that what you want isn't always what you need.

Growing up in New York, Michael St. Claire never expected to spend his twenties wearing cowboy boots. But that was before he learned about his real father, a total stranger with a family in Cedar Grove, Texas. Once in the Lone Star State, Michael meets Kristin Bellamy, who is exquisitely refined and everything Michael always thought he wanted in a woman. The only problem is that Kristin is dating Michael's new half-brother, Devon.

Kristin's mouthy, curvy sister Chloe has always been in love with Devon Patterson. So when Michael offers to help Chloe break up Devon and Kristin, Chloe agrees to a deal that seems too good to be true. Before long, Chloe finally gets her man, only to make a startling discovery: She no longer wants the guy she had to fight for—she wants the one who stood by her side.

After all he and Chloe have been through, Michael swears he's damaged goods. Can Chloe convince him that love is worth the risk?



My Review:
Intro: I think Crushed is the type of book that can defy even the harshest of reading slumps. I loved this one. For so many reasons but it is a definite highlight of my reading year.
Characters:
Heroine: Chloe-I loved Chloe. So much. She was so refreshingly normal. It was so easy to love her because she was so easy to identify with. I felt so angry on her behalf much of the time. She was constantly in her sister's shadow and I felt frustrated for her.
Hero: Michael-Initially, I was pretty angry at Michael for passing over Chloe for her sister Kristin. But he really grew on me. It wasn't malicious and he was a generally great hero. He did have his dunderheaded moments. I wanted to knock him over the head with a cinder block at times.
Chemistry-The friend to lover plot is one that will always get me interested. Add to it the ugly duckling storyline and…you've got me. I love Michael and Chloe together. I wish they…Michael especially…had gotten their act together sooner. But they were the perfect blend of angst and sweet and I loved them.
Chemistry Rating:
Conclusion: I loved Crushed so much. It combined so many things I love and did it all so well. The angsty bits are what got me but I loved the character development as well. I will definitely be following this series.
Overall Rating
Lauren Layne is the USA Today Bestselling author of contemporary romance.
Prior to becoming an author, Lauren worked in e-commerce and web-marketing. In 2011, she and her husband moved from Seattle to New York City, where Lauren decided to pursue a full-time writing career. It took six months to get her first book deal (despite ardent assurances to her husband that it would only take three). Since then, Lauren's gone on to publish ten books, including the bestselling Stiletto series, with several more on the way in 2015.
Lauren currently lives in Chicago with her husband and spoiled Pomeranian. When not writing, you'll find her at happy hour, running at a doggedly slow pace, or trying to straighten her naturally curly hair.
a Rafflecopter giveaway