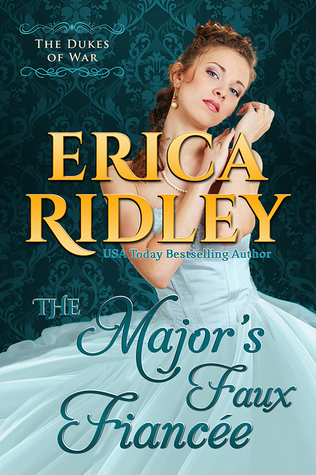 Publisher: Intrepid Reads
Pages: 200 pages
Genre: Romance/Historical
Buy this Book:
Amazon
,
Summary:
When Major Bartholomew Blackpool learns the girl-next-door from his childhood will be forced into an unwanted marriage, he returns home to play her pretend beau. He figures now that he's missing a leg, a faux fiancée is the best an ex-soldier can get. He admires her pluck, but the lady deserves a whole man—and he'll ensure she gets one.

Miss Daphne Vaughan hates that crying off will destroy Major Blackpool's chances of finding a real bride. She plots to make him jilt her first. Who cares if it ruins her? She never wanted a husband anyway. But the major is equally determined that she break the engagement. With both of them on their worst behavior, neither expects their fake betrothal to lead to love...
My Review:
Intro: I am not having a good week. At all. Everything is pretty terrible. Plus my 30th birthday is on the 14th so I am all "meh." So I am not sure if my current mood colored my opinion of this book at all but I found that while I liked the book, it's not really going to be on my favorites list at all.
Heroine: Daphne-I haven't had this happen in a while but I just plain old did not like Daphne. Not even a little bit. She was judgy and so uppity. She turned her nose up at just about everyone who did not live up to her standards. And I did not really see much change in her throughout the book. I wanted to like her but I don't think we…meshed well.
Hero: Bartholomew- Now Bartholomew I loved. He was such a great hero. He is grieving over the loss of his brother and his leg and he is just so heartbreaking at times. He was the real highlight of the book for me. He goes on my top heroes list, that's for sure.
Chemistry: I liked them together. In spite of my frustration with Daphne, I really enjoyed her interactions with Bartholomew. They personalities just worked against each other in the best way possible. They were opposites but they were so perfect with the chemistry.
Conclusion: This is one of those reviews where I realize in writing the review that I liked the book more than I thought I did at the start. The only real negative was my reaction to Daphne but I loved Bartholomew and the fake engagement plot.
Overall Rating